Broken Garage Door Spring
May I first describe the scenario the created the need for this event? My Garage/Man Cave', is the most used room in my abode and the Door is operated more than 10+ full Open-Close cycles every day. A few operations more than the average Garage? On a couple of occasions I had called on the services of the company that installed the door, so there was nil hesitation to contact them for help. Unfortunately it was the Friday before the Early May Bank Holiday Weekend but I did make contact with their Technical Manager and from my description he suggested that the problem was that the Torsion spring had broken.
Testimonial – Davies Springs Experience
To provide some context. When Mr Taylor said how happy he was with how he had been treated, I said "would you mind putting that in writing? – Never, ever did I expect such a detailed response."
Mike Davies –
Davies Springs
My Garage Door Would Only Open 60mm (3 – inches)
I cycle everyday and returning my machine to its 'home' had found that the Garage Door would only lift about 60mm from the floor and then it stopped again. All very well to have possession of my bike but without access to tools and items like the Track Pump life was about to get tedious. With some knowledge of the Door Control System I was able to raise the Door by utilising Timber Blocks and stout Timber Plank as a Lever. A space large enough to wriggle underneath the Door could be created, and supported by some Blocks, was considered safe enough to access and egress the Garage. Manually opening the Door, to this level, quickly took toll on my back. For someone 81 this year I am pretty fit and capable but needed to get this resolved quickly. I could not have been luckier with the weather.
The Spring Was Broken
Sure enough the spring was indeed broken, assumedly it happened shortly after the Door was closed and I was out of earshot? The Installing Company requested information and this was promptly gathered and duly reported. Then I got an eMail advising that they no longer dealt with the Door Manufacturer and were unable to obtain Parts. My contact with the American Manufacturer was batted straight back to me giving me contact details of the 'correct' Department who would handle the problem. My new request is unanswered to this day, and this made me feel that nobody who had benefited from the sale of the door really cared about the problem.
I turned To Google
Many folk would be thinking at this point how to go about resolving the problem. Possibly considering the cost, and time, to install a new door? Fortunately in my working life I have resolved many and various problems, in all aspects of modern commercial buildings including electrical and mechanical machines and equipment. Knowing probable best options, where and how to search and obtain appropriate help toward resolutions. A good place to start is 'Googling' the web.
I took The Broken Spring In…
My first contact was the beginning of my delightful and very satisfying Davies Springs Experience. An eMail was sent setting out the details of the Broken spring and the resulting problem(s) asking if the Company could help. It was a massive relief, and confidence boost, to receive an extremely prompt positive response from Sarah. Arrangements were made for me to make contact Lee for technical input early the next day. The situation required inspection of the Broken spring, a chance visit by my Son enabled immediate transportation to Davies Springs in Redditch of the broken spring plus attached flanges.
New Springs Made!
With a promise of 'Ready for Delivery' by the end of the following week I was highly delighted to hear at the beginning of that week 'your Springs are ready', it had seemed prudent to have two Springs made with a view to keeping a spare. Next morning, at 06:30 we set off for Redditch.
Friendliness, & Smiling Faces
The thing that really captured my attention during this visit was the friendliness, and smiling faces, of everyone. The busy workshop exuded Team Spirit and intent to maintain a long, happy and gainful employment. It felt like the whole group were rowing the Company Boat, with serious intent, in the direction of success. This Team may be classified as a Workforce, to me it is one big happy Family with a very caring Boss.
Spring Fitted Garage Door Working Again
Returning at approximately 11:15, we set about installing the new spring, the spare spring was slipped onto the shaft for storage and safe keeping. It was understood from previous experience that the spring should be stretched a little during installation, this was forgotten in the haste to 'let's see if it works'. The spring got very jumbled due to lack of space within the coil, the Door Control sensing the friction ceased moving after travelling less than 500mm. The attached sketch explains my calculations and reasoning for adjusting the amount of 'Stretch' and Number of Turns Preload. The result is a Garage Door that, by 13:30 on the day of collection was functioning properly without seemingly stressing the spring unduly. Later after further observation I realised that most 'flexing' of the tightened spring, when the Door is Closed, could be relieved by reducing the Preload Turns and amount of coil 'Stretch'. It is noted that the Preload Turns were made using only Hands, prior adjustments by 'professionals', albeit on a slightly 'stronger/stiffer' spring, were made using Tommy Bars to rotate the Shaft-Flange connection. It seems probable that excess Preload was the cause of the failure. Having made the adjustments to those recorded, the outcome is a quieter and smoother operating Garage Door than at any time since being installed. It seems unlikely that I will need to revisit Davies Springs for further help with this problem, but if the need arose I would not hesitate to do so.

I Have Absolutely No Connection
Anyone lucky enough to have located this site should find that they have arrived where they will be treated appropriately. The costs involved were, IMO, realistic and very close to that anticipated. The above is my Davies Springs Experience, I have absolutely no connection with them other than as a VERY HAPPY CUSTOMER. Why respond so fully? Much of this is part of my records and, in my view help above and beyond commercial value deserves acknowledgement and reciprocation.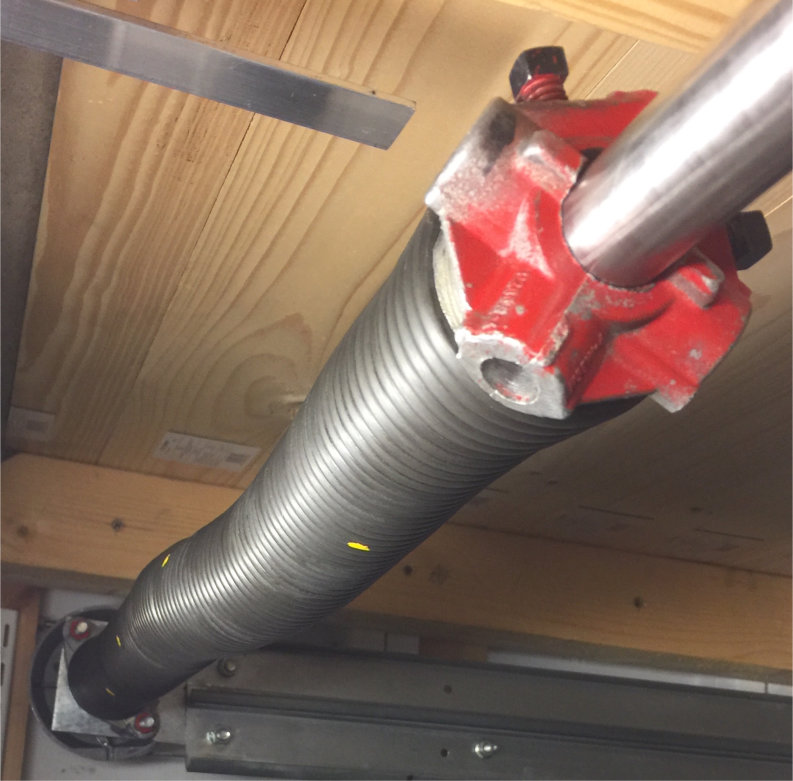 A Big Thank You
Congratulations and a BIG THANK YOU to Mike and the Whole Team, long may they work together and forge an ever growing band of satisfied Customers, and very best wishes for the future.
Stan Taylor

Sincerely
Stan TAYLOR
New Torsion Spring Installation Details: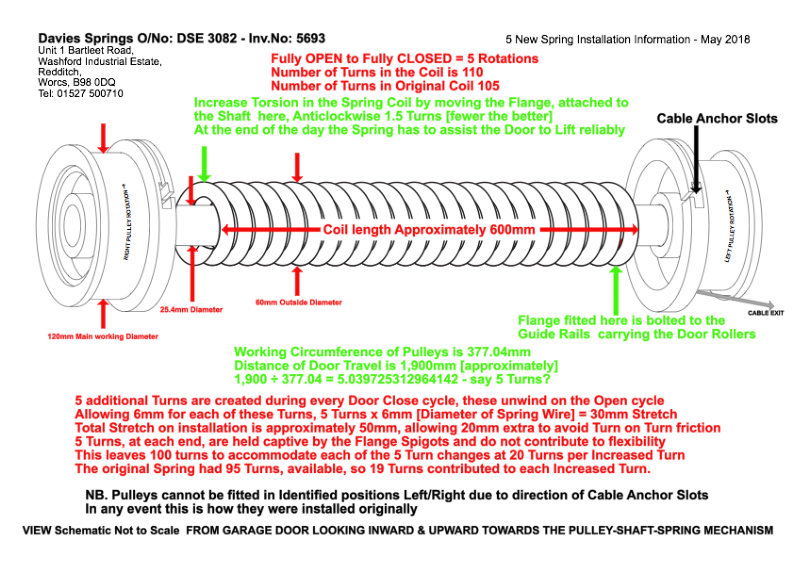 In case you are wondering? I had trouble counting the number of turns and the easy option was to mark the spring. The Yellow Markings are on every tenth Turn, placed in a nice straight row when the spring was first installed. Relieving the tension created the effect shown