Hourglass springs are available in a variety of materials, the most common being carbon steel or stainless steel, depending on the environment into which the spring is entering. Ends can be left open or closed. Ends can be ground depending upon application. Wire size from 0.25 mm (0.010″) up to 12.70 mm (0.500″). We have facilities for both hand-made and automated spring manufacture.

Hourglass Springs take their name from the fact that the compression springs have a narrower diameter in the middle and a larger diameter at each end. All our hourglass compression springs are manufactured to order ensuring that you will have precisely the spring you require to meet your needs.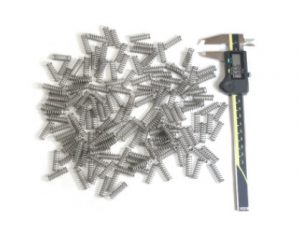 Why use Davies Springs?
Davies Springs supply a wide range of customers from stockists to end manufacturers. From basic springs to more complex designs we are equipped to meet your needs.
Please call 01527 500 710.
Out of hours please use our contact form and we will call you back.