Our dedicated approach to business has enabled us to build a loyal following of customers, but we are keen to add more and would welcome your enquiry.
Spring design service
Prototypes and one-offs
Technical advice in plain English
Why not take advantage of our immense experience in the manufacture of both standard and highly complex components, backed by computer spring software, and allow us to help you design and refine your spring requirements in order to obtain the correct spring for your application.
Working in partnership, as an extension to your own activities, we can aid you in the development of new designs and concepts and take your component from a concept design to a precision part, in quantities to suit your production requirements. Partnering at the early stage also helps to ensure that the most cost effective component solutions are achieved. Typically we charge £40 to
provide a drawing and advice, and it is not unusual for us to provide a credit on larger orders if the design goes ahead.
When springs work as intended there would appear nothing to them, but when they do not, or they only work effectively for a short period of time, this can be dangerous and potentially expensive to replace. Do not leave your spring requirements to chance but enlist the help of Davies Springs where there is huge wealth of experience to draw upon.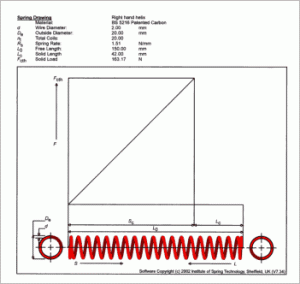 Plain English Spoken Here
Unless you are a fellow spring manufacturer looking to outsource a job, chances are you are not fully conversant with everything there is to know about springs and so we will listen to your needs, weigh up the options and discuss the potential solutions to meet your requirements. One of the refreshing
features with regard to dealing with Davies Springs is that we do not blind you with techno babble. Good, honest, plain English is spoken here.
Spring design service
Prototypes and one-offs
technical advice in plain English