Gas Struts
Gas struts… whilst we wholeheartedly believe in the springs we manufacture; there are times when a gas strut might be preferable to a spring. If you are looking at both alternatives why not run your enquiry past us; with a huge amount of experience we can provide you with options and pricing.
Gas struts are pressurised sealed tubes into which a piston and rod slides to give the required force. The force of the gas strut is provided by the gas pressure acting on the cross sectional area of the rod. The pressure of the gas can be changed to alter the force required to move the piston rod. The higher the gas pressure, the higher the force of the strut.
Gas Struts can be used in a wide variety of applications for pushing, lifting or lowering; particularly when heavy loads are involved. They can also be used to give support to components for a period of time. Please note that whilst gas struts are extremely useful aids, they are not safety devices and additional components may be required.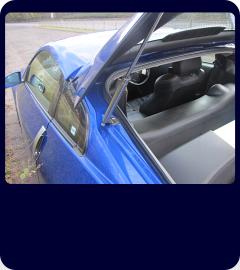 Gas Struts Typical Uses Include: –
Beds / furniture industry
Camper vans / caravans
Kitchen cupboards
Automotive / commercial vehicles
Marine
Medical / rehabilitation
Machine guards
End fixings include:
Ball Fittings
Threaded Ball
Eyelets
Clevis Forks
Sockets
Why use Davies Springs?
Davies Springs is a well established supplier of parts.
Please call 01527 500 710.
Out of hours please use our contact form and we will call you back.